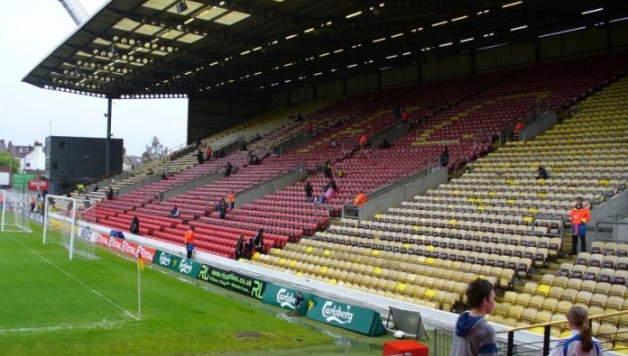 S.P. Read Esq: WATFORD v SPURS
Our daily columnist and pundit S.P. Read Esq. looks ahead to the Premier League game on Sunday between WATFORD v SPURS and finds the best opportunities available on Star Spreads, the home of sports spread betting.
---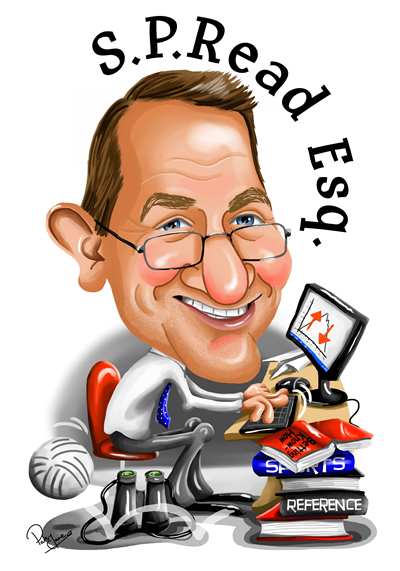 This should be a cracker, although with the Mourinho saga that's unfolding the simultaneous Burnley v Man U might well have attracted a bigger box office for SKY.
Watford have made the perfect 9 points from three games start to the season with wins against Brighton, Burnley and Palace and whilst this is undoubtedly their toughest task to date, confidence will be high and this could be a tricky match for Spurs who have made the same perfect start to the season, their wins coming against Newcastle, Fulham and Man U.
Spurs manager Mauricio Pochettino said: "We're going to play on Sunday against a very good team – a team that's going to fight and is in a very good moment.
"After three games they're over the moon. Of course if we're not ready and we believe because we beat Manchester United 3-0 that all is fantastic, I think we are going to crash."
The same fixture finished 1-1 last season and plenty may have this down for a similar scoreline today. If the Hornets are to win, it will become their first league victory over Spurs since 1987.
Watford v Tottenham Hotspur
Premier League
16:00 Sky Sports Premier League / Sky Sports Main Event / Sky Sports Ultra HD
HEAD TO HEAD
(Maximum 10 matches)
Apr 2018 PREMIER Tottenham 2-0 Watford
Dec 2017 PREMIER Watford 1-1 Tottenham
Apr 2017 PREMIER Tottenham 4-0 Watford
Jan 2017 PREMIER Watford 1-4 Tottenham
Feb 2016 PREMIER Tottenham 1-0 Watford
Dec 2015 PREMIER Watford 1-2 Tottenham
Jan 2012 FA CUP Watford 0-1 Tottenham
Dec 2008 CARLING CUP Watford 1-2 Tottenham
Mar 2007 PREMIERSHIP Tottenham 3-1 Watford
Oct 2006 PREMIERSHIP Watford 0-0 Tottenham
A BUY on the time of the first match goal (35 minutes) is the call.
CLICK FOR WATFORD v SPURS MARKETS ON STAR SPREADS
RECOMMENDED BETS (scale 1-100 points)
BUY TIME OF FIRST MATCH GOAL 20 points at 35 with Star Spreads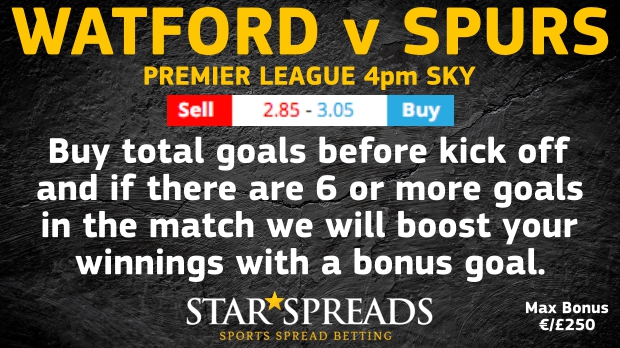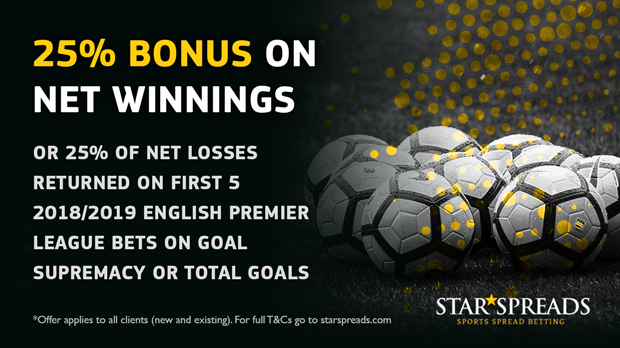 Any spread prices quoted are indicative and as always prices are subject to fluctuation.
Please note the opinion, views and forecasts above are of the author and not of Star Spreads.