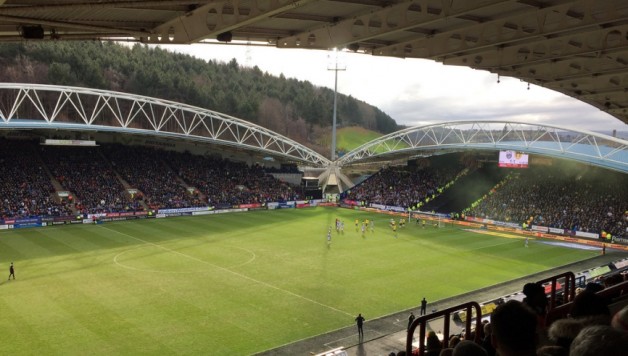 S.P. Read Esq: HUDDERSFIELD v FULHAM
Our daily columnist and pundit S.P. Read Esq. looks ahead to the Premier League game on Monday between HUDDERSFIELD v FULHAM and finds the best opportunities available on Star Spreads, the home of sports spread betting.
---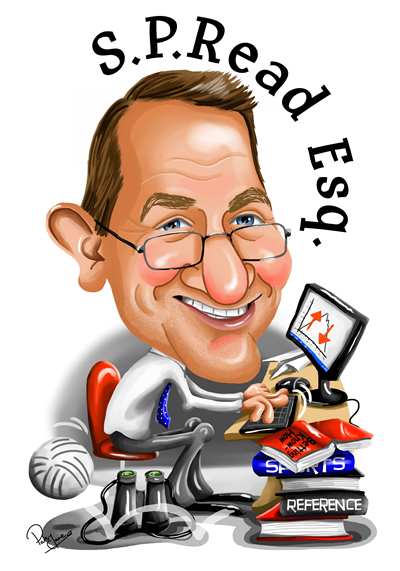 Huddersfield and Fulham are both struggling at this moment but their clash at the John Smith's Stadium could provide plenty of thrills.
Fulham were not expected to struggle as much after spending £100m on new signings including Andre Schurrle and Jean Michel-Seri, but they have won just one of their 10 Premier League games and they come into tonight's game on the back of a five-match losing streak including a late collapse to go down 4-2 to fellow strugglers Cardiff, whilst Bournemouth cut through them 3-0 last week.
Huddersfield are also struggling (they're bottom of the table) although that was more expected by the markets and they have had the rougher fixtures compared to Fulham so far, with Chelsea and Manchester City as their first two games. Indeed, they have faced Chelsea, Manchester City, Liverpool and Tottenham already just 10 games into the season whilst they have also faced top half sides Everton and Leicester. With fixtures set to get easier for them and only five points covering the bottom seven teams, there is some hope for the Terriers.
However, their limitations were exposed when Watford beat them 3-0 last week and that total probably should have been even greater. It's understandable that the market is undecided on just how many goals there'll be given that Huddersfield have struggled for attacking fluency but there could be more goalmouth action than many think.
Fulham are yet to keep a clean sheet so far and have let in 28 goals this season, the most in the division, and despite Slavisa Jokanovic's attempts to find the right combination – eight defenders have been used at some point, but their last four league fixtures have seen them concede 15 times.
Huddersfield v Fulham
Premier League 8pm
Live on Sky Sports Premier League HD
HEAD TO HEAD RECORD
(Maximum 10 matches)
APR 2017 CHAMPIONSHIP Huddersfield 1-4 Fulham
OCT 2016 CHAMPIONSHIP Fulham 5-0 Huddersfield
JAN 2016 CHAMPIONSHIP Huddersfield 1-1 Fulham
AUG 2015 CHAMPIONSHIP Fulham 1-1 Huddersfield
MAR 2015 CHAMPIONSHIP Huddersfield 0-2 Fulham
NOV 2014 CHAMPIONSHIP Fulham 3-1 Huddersfield
APR 2001 DIVISION ONE Huddersfield 1-2 Fulham
NOV 2000 DIVISION ONE Fulham 3-0 Huddersfield
MAY 2000 DIVISION ONE Fulham 3-0 Huddersfield
OCT 1999 DIVISON ONE Huddersfield 1-1 Fulham
However, going forward, they are not hopeless. Aleksandar Mitrovic has five goals so far whilst Andre Schurrle is just one behind, and Ryan Sessegnon and Jean Michel-Seri are both players with the quality to supply their forward line too. Huddersfield are yet to score a goal, but if they cannot get one past this defence then there will be serious worry and it's worth noting that Fulham went to Cardiff, themselves struggling for goals, and lost 4-2. A sell of the third match goal looks the call with starspreads.
CLICK FOR HUDDERSFIELD v FULHAM MARKETS ON STAR SPREADS
RECOMMENDED BETS (scale 1-100 points)
SELL THIRD MATCH GOAL 15 points at 77 with Star Spreads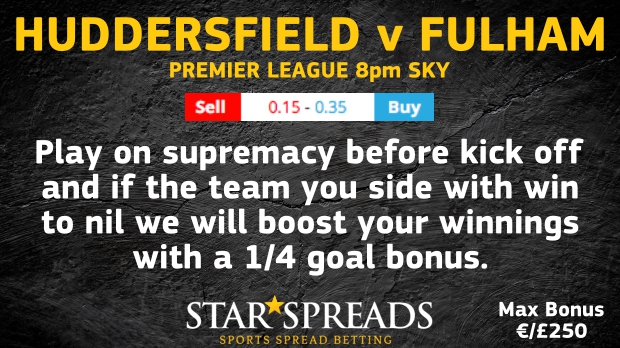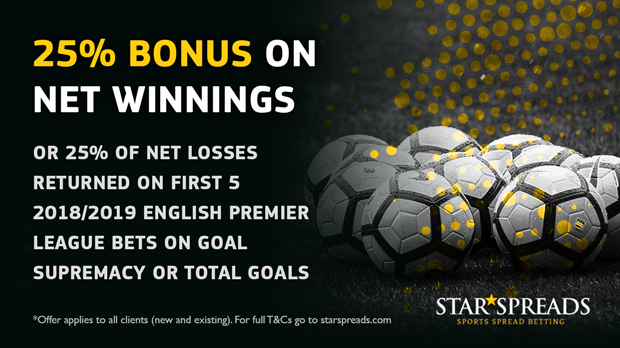 Any spread prices quoted are indicative and as always prices are subject to fluctuation.
Please note the opinion, views and forecasts above are of the author and not of Star Spreads.