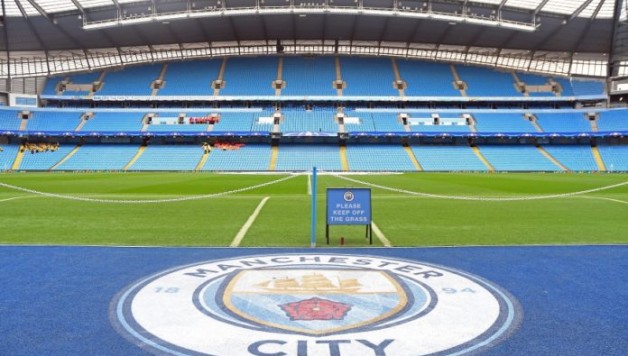 S.P. Read Esq: MAN CITY v LIVERPOOL
Our daily columnist and pundit S.P. Read Esq. looks ahead to the Premier League game on Thursday between MAN CITY v LIVERPOOL and finds the best opportunities available on Star Spreads, the home of sports spread betting.
---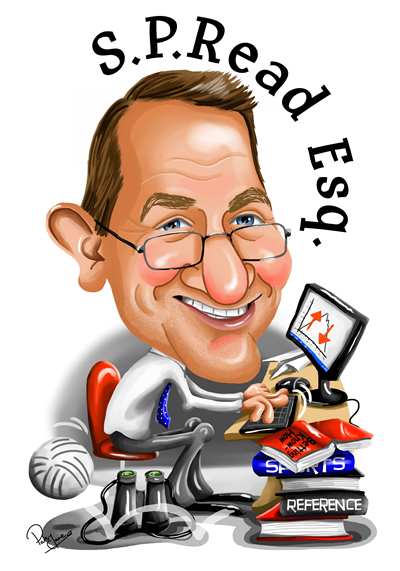 Across the nine months of a Premier League season, it is safe to assume that every game will be an important one but there have been few bigger games in Liverpool's recent Premier League history than their encounter against Manchester City tonight.
Jurgen Klopp has brought life and vigour to a club that had begun to fall behind but now they have a very real chance of a first ever Premier League title (and a first league title since 1990) and few games will have a bigger effect on this outcome than tonight's visit to the Champions. Following a 5-1 trashing of Arsenal, the Reds are seven points clear at the top of the table and they cannot lose their position at the head of the league even with a defeat here.
City, for much of the season, have been just as impressive as they were during their 100 point, title winning campaign, and until Christmas they'd had the lead and been long odds on – even as recently as December. However, a pair of defeats, first a shock 3-2 home loss to Crystal Palace and then another defeat at Leicester were gift wrapped presents for Liverpool.
On both occasions they took the lead and managed to lose it but against Palace they did dominate the game, only to lose to an inspired performance which included a penalty and a screamer from Andros Townsend, and once Fernandinho and David Silva returned to the side they looked back to their usual selves when they won 3-1 at Southampton with goals from David Silva, Raheem Sterling (heavily deflected) and Sergio Aguero.
They rode out the pressure that Southampton put on them in style and if anything they could have doubled their goals tally there, so long term there shouldn't be a problem or any kind of slide.
This is about the here and now, with City around evens to cut the gap back to four points. That's the biggest price they've been for a game at the Etihad since December 2016 and with good reason – Liverpool's front three of Mohamed Salah, Roberto Firmino and Sadio Mane have all been brilliant lately but so have Alisson in goal and also Virgil van Dijk as one of the centrebacks of the season.
However, their only three defeats this season have come on the road, at PSG, Napoli and Red Star, and it's possible that the venue might be the difference here. City would have won the reverse fixture had Riyad Mahrez not blown an 85th minute penalty over the bar.
Man City v Liverpool
Premier League
20:00 Sky Sports Premier League / Sky Sports Main Event / Sky Sports Ultra HD
HEAD TO HEAD RECORD
(Maximum 10 matches)
OCT 2018 PREMIER LEAGUE Liverpool 0-0 Manchester City
APR 2018 CHAMPIONS LEAGUE Liverpool 3-0 Manchester City
APR 2018 CHAMPIONS LEAGUE Liverpool 3-0 Manchester City
JAN 2018 PREMIER LEAGUE Liverpool 4-3 Manchester City
SEP 2017 PREMIER LEAGUE Manchester City 5-0 Liverpool
MAR 2017 PREMIER LEAGUE Manchester City 1-1 Liverpool
DEC 2016 PREMIER LEAGUE Liverpool 1-0 Manchester City
MAR 2016 PREMIER LEAGUE Liverpool 3-0 Manchester City
FEB 2016 CAPITAL ONE CUP Liverpool 1-1 Manchester City
NOV 2015 PREMIER LEAGUE Manchester City 1-4 Liverpool
Goals are expected but Manchester City's five games against the big six this season have produced only nine goals and it would be no surprise if this became a game of few chances. A buy of the first match goal at 35 minutes could be the call on an enthralling game.
CLICK FOR MAN CITY v LIVERPOOL MARKETS ON STAR SPREADS
RECOMMENDED BETS (scale 1-100 points)
BUY FIRST MATCH GOAL 15 points at 35 with Star Spreads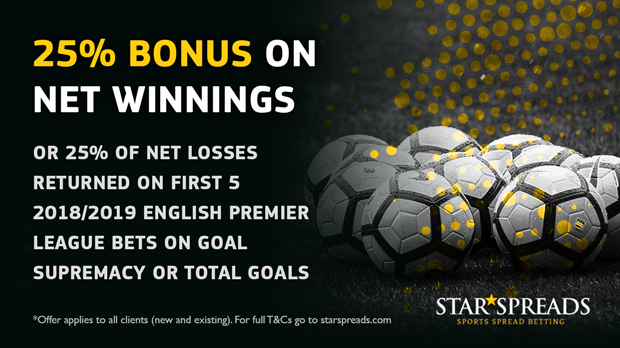 Any spread prices quoted are indicative and as always prices are subject to fluctuation.
Please note the opinion, views and forecasts above are of the author and not of Star Spreads.